Posts for: September, 2021
By Hartej S. Sood, DDS
September 20, 2021
Hannah Bronfman, well-known DJ and founder of the health and beauty website HBFIT.com, took a tumble while biking a few years ago. After the initial pain and bruising subsided, all seemed well—until she started experiencing headaches, fatigue and unexplained weight gain. Her doctors finally located the source—a serious infection emanating from a tooth injured during the accident.
It's easy to think of the human body as a loose confederation of organs and tissues that by and large keep their problems to themselves. But we'd do better to consider the body as an organic whole—and that a seemingly isolated condition may actually disrupt other aspects of our health.
That can be the case with oral infections triggered by tooth decay or gum disease, or from trauma as in Bronfman's case. These infections, which can inflict severe damage on teeth and gums, may also contribute to health issues beyond the mouth. They can even worsen serious, life-threatening conditions like heart disease.
The bacteria that cause both tooth decay and gum disease could be the mechanism for these extended problems. It's possible for bacteria active during an oral infection to migrate to other parts of the body through the bloodstream. If that happens, they can spread infection elsewhere, as it appears happened with Bronfman.
But perhaps the more common way for a dental disease to impact general health is through chronic inflammation. Initially, this defensive response by the body is a good thing—it serves to isolate diseased or injured tissues from healthier tissues. But if it becomes chronic, inflammation can cause its own share of damage.
The inflammation associated with gum disease can lead to weakened gum tissues that lose their attachment to teeth. But clinical research over the last few years also points to another possibility—that periodontal inflammation could worsen the inflammation associated with diseases like heart disease, diabetes or arthritis.
Because of this potential harm not only to your teeth and gums but also to the rest of your body, you shouldn't take an oral injury or infection lightly. If you've had an accident involving your mouth, see your dentist as soon as possible for a complete examination. You should also make an appointment if you notice signs of infection like swollen or bleeding gums.
Prompt dental treatment can help you minimize potential damage to your teeth and gums. It could also protect the rest of your health.
If you would like more information about the effects of dental problems on the rest of the body, please contact us or schedule a consultation. To learn more, read the Dear Doctor magazine article "The Link Between Heart and Gum Diseases."
By Hartej S. Sood, DDS
September 10, 2021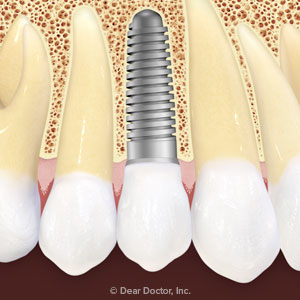 Getting dental implants is going to require surgery. But don't let that concern you—it's a relatively minor procedure.
Currently the "gold standard" for tooth replacement, an implant consists of a titanium post surgically imbedded in the jawbone. We can affix a life-like crown to a single implant or support a fixed bridge or removable denture using a series of them.
Because placement will determine the restoration's final appearance, we must carefully plan implant surgery beforehand. Our first priority is to verify that you have adequate jawbone available to support an implant.
Additionally, we want to identify any underlying structures like nerves or blood vessels that might obstruct placement. We may also develop a surgical guide, a retainer-like device placed in the mouth during surgery that identifies precisely where to create the holes or channels for the implants.
After numbing the area with local anesthesia, we begin the surgery by opening the gum tissue with a series of incisions to expose the underlying bone. If we've prepared a surgical guide, we'll place it in the mouth at this time.
We then create the channel for the insert through a series of drillings. We start with a small opening, then increase its size through subsequent drills until we've created a channel that fits the size of the intended implant.
After removing the implant from its sterile packaging, we'll directly insert it into the channel. Once in place, we may take an x-ray to verify that it's been properly placed, and adjust as needed. Unless we're attaching a temporary crown at the time of surgery (an alternate procedure called immediate loading), we suture the gums over the implant to protect it.
Similar to other dental procedures, discomfort after surgery is usually mild to moderate and manageable with pain relievers like acetaminophen or ibuprofen (if necessary, we can prescribe something stronger). We may also have you take antibiotics or use antibacterial mouthrinses for a while to prevent infection.
A few weeks later, after the bone has grown and adhered to the implant surface, you'll return to receive your new permanent crown or restoration. While the process can take a few months and a number of treatment visits, in the end you'll have new life-like teeth that could serve you well for decades.
If you would like more information on dental implants, please contact us or schedule an appointment for a consultation. You can also learn more about this topic by reading the Dear Doctor magazine article "Dental Implant Surgery."