Posts for tag: Crowns
By Hartej S. Sood, DDS
January 11, 2021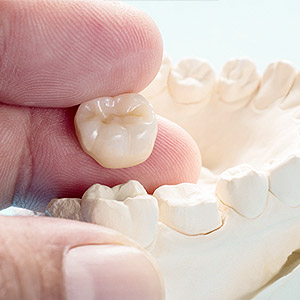 Millions of Americans rely on dental insurance to help them better afford dental care. Depending on the benefit package, an insurance policy can be useful in restoring dental health compromised by disease or injury.
But how life-like that restoration may appear is often a secondary concern with many insurance plans. For example, dental insurance will pay for a crown restoration that restores function to a tooth, but not necessarily of the highest aesthetic quality for achieving a truly life-like appearance.
To be sure, not all dental crowns are the same. Some are all metal, usually gold or silver. Some are "hybrids," made of an interior metal shell with an outer fused porcelain shell (porcelain-fused-to-metal or PFM). In recent years all -ceramic crowns made of stronger life-like ceramics have become the most popular.
The type of crown used will depend a great deal on the type and location of the tooth. Teeth on the back of the jaw that encounter greater biting forces and are not as noticeable in the smile may do better with a metal or PFM crown. Visible side and front teeth are more likely candidates for all-ceramic. Your dentist will give you your best options as it pertains to your dental needs and appearance.
There's also a difference in crown workmanship. Dental laboratories now use milling machinery that sculpts a crown from a single block of material. Although some final handwork by skilled technicians is still necessary, milling has streamlined the process—and the cost—for producing a crown of high functioning quality.
But crowns that achieve the most natural smile appearance require more in the way of artistic craftsmanship. This in turn can increase the crown's price—beyond what many dental policies agree to cover. You may then be faced with a decision: an insurance-covered functional crown with an acceptable level of life-likeness or a more life-like crown for which you may have to pay more out-of-pocket.
Your dentist can advise you on your best options for a crown restoration, also factoring in what your insurance will cover. Ultimately, though, you'll have to weigh the kind of smile you desire with your dental situation and finances.
If you would like more information on dental crown restorations, please contact us or schedule an appointment for a consultation. You can also learn more about this topic by reading the Dear Doctor magazine article "Porcelain Dental Crowns."
By Hartej S. Sood, DDS
May 01, 2019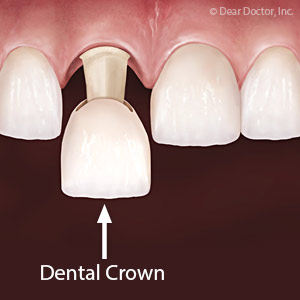 While dental implants have become the most popular restoration among both dentists and patients, it's primarily a tooth replacement — either for a missing tooth or a tooth beyond repair that must be extracted. But what if your tooth is still viable beneath its unattractive exterior? From an oral health standpoint, it's usually wise to preserve it.
Even so, you still have options for making a tooth that's spoiling your smile more attractive. One of the most effective solutions happens to be one of the oldest in dentistry: a crown. In effect, a crown is a life-like replica made of metal or dental porcelain that's bonded over a tooth. And with today's advanced materials and methods a crown can not only enhance the appearance of the tooth it covers, it can also be made to blend with the color and symmetry of adjacent teeth.
Here are a few dental situations where a crown could provide both protection for a tooth and a more attractive appearance.
Chipped, Damaged or Abnormally Developed Teeth. Teeth often take the brunt of mouth injuries, resulting in chips or even fractures. Also, teeth sometimes don't erupt fully or develop a normal shape. A crown can effectively cover these missing or abnormal parts of a tooth and restore a more natural appearance.
Following Root Canal Treatment. Trauma or deep decay can damage the interior of a tooth - the pulp and root canals - and endanger its survival. A root canal treatment cleans out and repairs these areas, filling them with a special filling to prevent further infection. A crown is usually necessary to both protect the tooth and restore its appearance.
Discoloration. There's a difference between outward staining of the enamel, which can usually be brightened with whitening solutions, and staining deep within the tooth from various causes. While there are techniques to bleach "intrinsic" staining, a crown provides another option for covering a heavily discolored tooth for a more attractive appearance.
Excessive Wear. We all experience some teeth wearing as we age; but grinding or clenching habits can accelerate that wear and shorten teeth, resulting in a prematurely aged look. Crowns restore worn teeth to a more normal length that can take "years" off your smile.
If you would like more information on crown restorations, please contact us or schedule an appointment for a consultation. You can also learn more about this topic by reading the Dear Doctor magazine article "Crowns & Bridgework."
By Hartej S. Sood, DDS
March 27, 2019
Cosmetic dentistry has helped numerous patients experience a smile renewal—even after years of coping with their smile imperfections. Cosmetic treatments can reduce the appearance of spaces between the teeth, change their color, smooth out ridges, and add stability. Find out how Dr. Hartej Sood, a dentist serving patients in Chicago, IL, can add vitality and newness to your smile.
What Is Cosmetic Dentistry?
One specialty offered at many dentist offices is cosmetic dentistry. Its focus is on beautifying, restoring, recoloring, and rearranging the teeth so that the patient has a better-looking (and feeling) smile. Some patients only need a minor treatment, while others may require a full smile makeover. The demand for cosmetic dentistry has been strong since ancient times in human history when people tried to fix their smiles using stones, shells, and bones. Thankfully, the technology has advanced significantly since then.
Common Treatments
When you visit your Chicago, IL, dentist for a cosmetic consultation, you'll have an X-ray taken along with a visual examination of your smile. Based on this exam, which should only take about 30 minutes to an hour, Dr. Sood will recommend the best way to improve your smile. These are some of the most common treatments:
Veneers, to cover imperfections.
Crown Restorations, to secure and strengthen damaged teeth.
Dental Implants, to replace missing or loose teeth.
Dentures, to replace a full row of teeth.
Gum Surgery, to reduce the appearance of a "gummy" smile.
Invisalign Braces, to update the positioning of the teeth.
Cosmetic Dentistry Has Many Benefits
Statistics published by the American Academy of Cosmetic Dentistry (AACD) shows that there's a consistent demand for cosmetic procedures. If you're still unsure if cosmetic dentistry is the right choice for you, consider these benefits:
A nice smile can inspire you to be more social and improves your overall appearance.
When your teeth are more favorably aligned and closely placed, they give you better support when chewing.
Many cosmetic treatments are quick and easy. Some only require one relatively short dental visit.
Improve Your Smile
Take some time to explore the various benefits of having your Chicago, IL, dentist fix up your smile with cosmetic dentistry. Call (773) 327-0011 to schedule an appointment with Dr. Sood today!